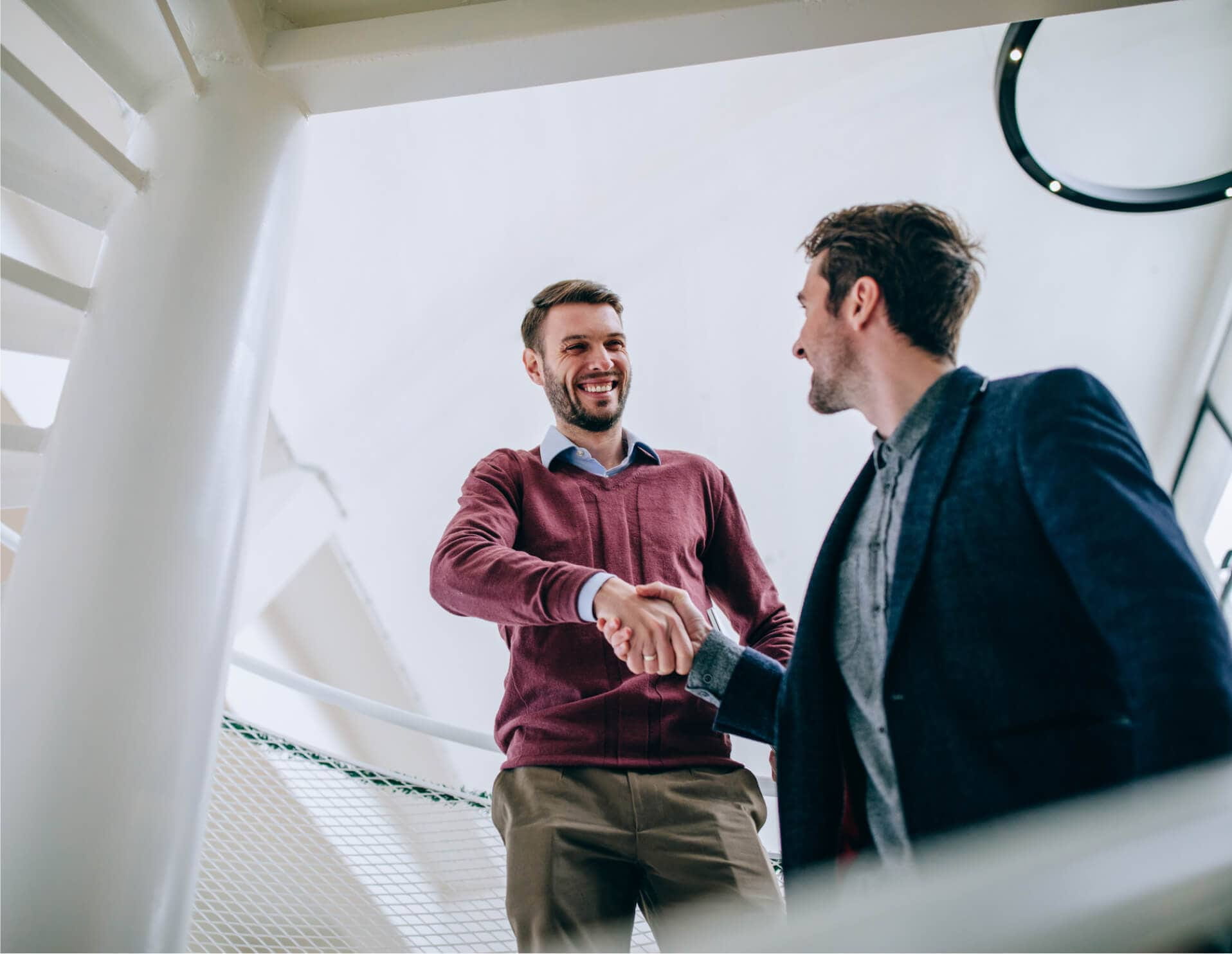 Our brand story
A story of adaptation and convergence
Let's kick our story off by addressing the elephant in the room for every HR department: HR is not what it used to be. Businesses have evolved rapidly in the digital age and continue to do so. The same applies for the people working in them. Their horizons have widened, resulting in new expectations. In short, change has become the only constant, while life and work are closely intertwined.
The ability of businesses and HR to adapt to this new reality will determine their success. Therefore, our role is clearer than ever: to provide people solutions for life and for work, enabling employers and their people to thrive in this brave new world.
Our approach inspires results. Together, we spark success. Side by side, we turn challenges into opportunities.
3 trends define our products, services and solutions
To provide a uniform, future-proof offering across all our markets for companies of every size, it's important to pinpoint exactly which evolutions drive change in HR. For us, these three major trends are what's it's all about:
3 key movements work
becomes fluid
employee
lifecycle
people
solutions
#1 Work becomes more fluid
Before
Everything had a set cadence: lifetime careers, permanent jobs, annual enrolment, quarterly reviews, monthly payroll, fixed locations.
Now
Everything happens at the will of the workers: people want continuous performance reviews, flexible paydays, real-time information and a portfolio of career options that they control.
As a result, employers adapt their people processes and technologies to accommodate for 'work becoming fluid'. It's our job to make sure all that fluidity is dealt with in a compliant and accurate way.
Side by side, we roll out mechanisms so that people can weave their work lives into their life's work:

#2 Employee lifecycle
Before
Employers had the upper hand. Employees stood by and waited for opportunities to be handed to them. Their careers followed linear paths outlined from above.
Now
Work has become an experience, a journey. Employees proactively embrace and shape their careers. They choose where they work and how, and in which direction they are heading.
As a result, employers look for ways to allow for workers to remain in centre stage while benefitting their business at the same time. It's our job to hand them innovative solutions to help them fulfil that twofold aspiration.
Side by side, we focus on five process groups that span the entire employee lifecycle, from paying employees to attracting, rewarding, and developing the talent that empowers businesses to succeed:
Staffing & recruitment
Finding the right person for the right job at the right time.
Core HR
Managing employee data through various self-service apps and portals.
Payroll & reward
Ensuring the compliant payment of workers and a system of flexible benefits.
Workforce management
Maintaining a productive workforce to maximise performance levels.
Talent management
Combining lifelong learning, performance management and succession planning.
#3 People solutions
Before
Business and HR departments wanted a single software solution, a temporary service or basic advice to tackle specific issues as they presented themselves.
Now
Employers want the full-package deal, a partner who thinks along with them and offers a wide range of end-to-end people solutions, enabling them to live up to their employees' renewed expectations.
As a result, employers have been looking for HR service providers that are willing to step out of their comfort zones and go the extra mile. It's our job to be at the forefront of this evolution.
Side by side, we've elaborated a portfolio for companies of all sizes – SMEs, mid-market and large enterprises with domestic as well as international activities. Those people solutions are based on these four core capabilities:
One language to achieve our primary purpose
When combined, the five process groups and four core capabilities form a 20-box grid. This canvas brings uniformity to what we do. It allows us to better target our efforts and, ultimately, deliver on our promise:
We spark success at the heart of a business, so employers and their people can thrive.
A people-centric approach
SD Worx brings people solutions to life. The goal? Enabling companies of any size to turn human resources into a source of value for the business and the people in it.
In today's new world of work, people want to be inspired by what they do and the freedom to focus on what matters. Businesses need a dynamic, motivated workforce empowered by advanced tools, adaptive services and technologies, and meaningful insights.
Our people solutions span the entire employee journey, from paying people to attracting, rewarding, and developing the talent that drives business success.
For life. For work. And always side by side.
Our culture unites us
Our genuine passion for results helps our clients thrive. We take ownership of our work, helping people grow their businesses with efficiency and discipline. For us, learning and innovating are as natural as breathing, inspiring us to always go further.
We care for one another by sharing our talents and celebrating our differences. From many places, we work as one, moving from better to best. It starts with us and spreads across the world: for life, for work.
We're in it together
It's fair to say that businesses and HR are experiencing interesting times. Today's employees especially want meaning and purpose. They want to know that what they do matters. That's why our people solutions inspire results, matching people to the jobs they're meant for, helping them learn and grow, rewarding them appropriately, and giving them the time and tools they need to focus on the work they love to do.
Side by side
Our customers are not alone. We help them help their employees at every step of the way. The main idea behind our mission: we enable their people to fully benefit from our solutions, which in turn drives better results for individuals, teams, and their bottom line.
For life. For work.
With technology, outsourcing, expertise, and data-driven insights, we ensure that our customers adapt and thrive in today's new reality. Together, we prosper in a world where fluidity is everywhere. We inspire results – for life and for work.