SD Worx wants to maximise its social impact. Each and every one of us is a spark, we support you in making yours as bright as possible.
Our ESG ambitions
Our aim is to generate maximum social impact by activating our brand story 'For Life, For Work', thus creating sustainable workforces and enabling people to spark as strongly and brightly as possible.
4 main goals
5 support goals
Environment highlights
First Group Footprint Registration
Plant a Tree/ Food Forest/ Beekeeping Initiatives
100% Green Fuel for Electric Vehicles
Revised Mobility Policy
New Procurement Policy
Eco-culture Management
Carbon Emission Compensation Programs
Internal Sustainability Course
Solar Panel Investment Plan
Energy Management Through AI/tracking devices
Social highlights
Launch ESG-Inspired Offerings
Expansion Engagement Survey
Employee Engagement up by 24%
#WeSPARKyour Well-being campaign
New Recruitment Practice
Over 50,000 Learning Hours Processed
61% Women in Workforce
CSR Spend up by 11%
Launch Competency Centers
>15% growth number of employees
Governance highlights
First Materiality Assesment
Digital Spend up by 22.4%
New Group Entity Structure
Revised Code of Conduct
Recognition by Everest Group, Gartner, …
Signatory to UN Global Compact
Establishment ESG Steering Committee
New Competition Policy
Launch World of Work Platform/SPARC
Set up Business Platform Department
Launch Corporate Complaint Handling Process
New Governance Policy Framework
ISO 14001 certification SD Worx Nordics
ESG-disclosures ESG-aligned
Launch Local SD Worx Websites
Profile SD Worx employees 2022
Age diversity
Gender equality
Distribution by role
Employees by country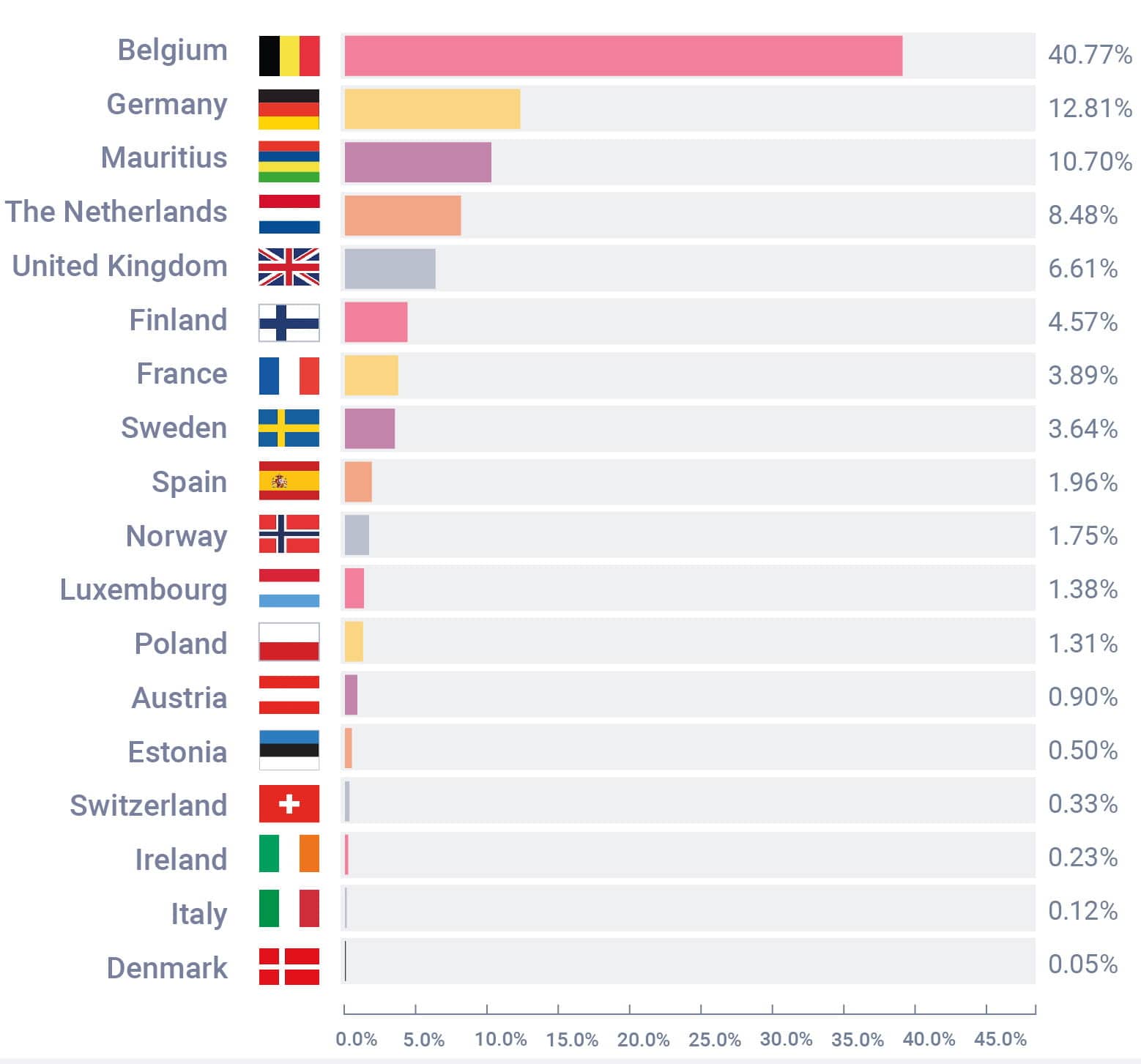 Seniority
86
Number of
nationalities
Accelerating the further development of women's cycling
With more teams, more riders and races like Paris-Roubaix and the Tour de France, women's cycling is growing fast. Much is changing, but there are still some hurdles to take to fully professionalise the sport.
Since 2021, SD Worx has been the main sponsor of Team SD Worx, composed of the world's best women cyclists. By extending our sponsorship early in 2022 instead of when the former contract would have ended in 2024, we gave them the stability they need to grow and make long-term decisions. They can work on the future with peace of mind: we're committed to the team as its main sponsor until the end of 2026.
This sponsorship contract helps Team SD Worx riders to develop their full potential so they can maintain their leading position in the UCI rankings. But that's not the only reason why SD Worx puts its trust in the winning team.
"Our company and our customers attach great importance to equal opportunities for everyone. By investing in women's cycling, we want to create an environment where top female athletes can develop themselves in the best possible conditions," says CEO Kobe Verdonck.
"By extending our partnership until 2026, we are committing ourselves to the further professionalisation of women's cycling."
Team SD Worx, an inspiring leader
A glimpse of the team's achievements in 2022:
Fun fact: a camera crew followed the team around during the preparations for and the first round of the Tour de Frances Femmes. This unique behind-the-scenes footage was made into the very first documentary series about a women's cycling team – available on Amazon NL and Belgian national television!
At the same time, Team SD Worx is also strongly aligned with our organisation and values and helps to promote the messages that we hold dear. For example, the riders have raised awareness of the need for a healthy work-life balance, women's day and talent development in 2022.
To keep track of Team SD Worx, follow teamsdworx.com.
For more information about our ESG efforts, download our annual ESG report here or at our ESG page.
Download ESG report