Business ideas take flight – Hospi via Payroll
Hospi via Payroll is a collective hospital insurance framework for payroll customers of SD Worx aimed at companies with 10 to 100 employees. This new product was developed with and brought to market by Belgian insurance broker Vanbreda Risk & Benefits. As soon as the SD Worx customer signs into Hospi via Payroll, we automatically transfer all data to Vanbreda Risk & Benefits and the insurance policy comes into effect. No medical questionnaires or medical research are needed. The insurance broker then contacts the customer's employees to see if they also want to connect their family members to Hospi via Payroll.
Meet the inventor of Hospi via Payroll: Erik De Cordt
"In my former position, I supported customers in the use of X-Tend, our payroll solution for large enterprises, which features many customised requirements. The solution involved a lot of bespoke work to benefit only a few customers. I wanted to create something new, a solution geared toward the employees of our customers. A standard and scalable solution like this requires a B2C software development mindset."
"A market survey distributed to 330 SMEs indicated that one out of four companies was interested in offering hospital insurance, but had not yet done so. So, I came up with the idea of Hospi via Payroll. It had to happen in collaboration with a partner, since SD Worx is not an insurance expert and has no ambition to become one.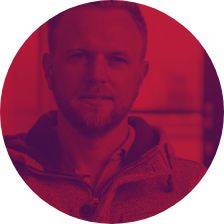 "Working with the Innovation Lab was the experience of a lifetime and a unique opportunity to experiment, discover and develop other interests and skills. It proves that you can shape your own career within SD Worx. I can highly recommend it to anyone!"
– Eric De Cordt
"Bringing digital simplification to our customers is an aspiration of SD Worx, so I was allowed to pitch my idea a number of times to decision makers, which was very exciting! These pitches turned out to be successful, and then I participated in a training session to determine the scope, business canvas, value proposition, etc. of my idea. That was incredibly interesting! It's great to see one's idea become reality. Colleagues refine and develop your idea, and a director signs a cooperation agreement with a partner you have involved yourself. In short, a company-wide machine starts up that involves marketing, ICT, legal ... In transitioning to another function at SD Worx and embracing a new range of tasks, I finally set my brainchild free, but I felt I left it in good hands."